Since 2009, Audi has proudly worn the title of the official luxury vehicle sponsor of the New York Yankees. The sponsorship includes the Audi Yankees Club, a branded space in Yankee Stadium providing guests with a luxurious view of the game in true Audi style.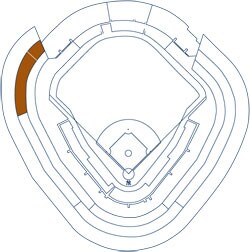 Audi Yankees Club
Located in left field on the SAP Suite Level, the Audi Yankees Club features a cocktail and dining lounge with sweeping views of Yankee Stadium. In keeping with the living museum that is Yankee Stadium, images of Yankees greats adorn the club as do Sony high-definition televisions. Performance-cooking stations, a dessert station and full cocktail service complete the gourmet dining experience.

Reservations For Members
There are two seating times, pre-game (approximately two hours prior to the scheduled start time of the game) and in-game (at the scheduled start time of the game). Reservations for the dining room can be made Monday through Friday, 10:00AM-3:00PM, by calling (646)977.8813. Walk-up seating for members is also available on a limited, first-come, first-served basis.
Dress Code
: Appropriate attire is required at all times. Attire will be deemed appropriate at the sole discretion of the New York Yankees.
For more information, please call: (646) 977-8813.