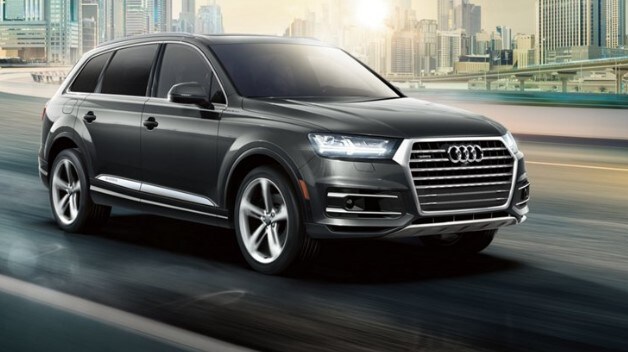 From the time it was introduced in 2005, the Audi Q7 quickly earned its place among the brand's new vehicles. A three-row SUV that has all the agility of a much smaller vehicle, this model is about to arrive at Audi of Smithtown extensively updated for the 2020 model year.
2020 Audi Q7 Details
There are, in a sense, two different versions of the 2020 Audi Q7. There's the one overseas, which is likely to get some technology that isn't available (or in some cases, even legal) in the states yet, and there's the one we're getting at 578 Middle Country Rd in St James, NY, which is so good you're not going to feel like you're missing anything.
This may be a luxury SUV, but in its redesigned form, it's getting more body cladding and some other features that will make it better for off-road use. It also gets an exterior redesign, with sharper curves and creases and a redesigned grille, so the looks match the athleticism that's always been at its disposal.
Some of the other features are handed down from the Audi Q8, including mild hybrid technology to boost torque and efficiency, and advanced roll stabilization is also on tap. Other future developments, like a plug-in hybrid model, are rumored but not likely for this model year.
2020 Audi Q7 Safety and Special Features
The interior is getting some hand-me-downs from the Audi Q8 as well. While the top trim will, as usual, come fully loaded, the lower trims will get their share of goodies, including the new MMI® touch response infotainment system and options like the Bang & Olufsen™ 3D sound system.
Of course, you don't update a new Audi SUV without updating its safety features. Be on the lookout for Adaptive Cruise Assist (lane keep assist coupled to active cruise control), and a new emergency assist feature that stops the vehicle and summons help in the event that the driver is incapacitated.
Buying a 2020 Audi Q7
Excitement is building around the 2020 Audi Q7, but a little patience is in order. It hasn't arrived at your Long Island Audi dealership, though it will be available to customers before too long. Call or stop by for more details.