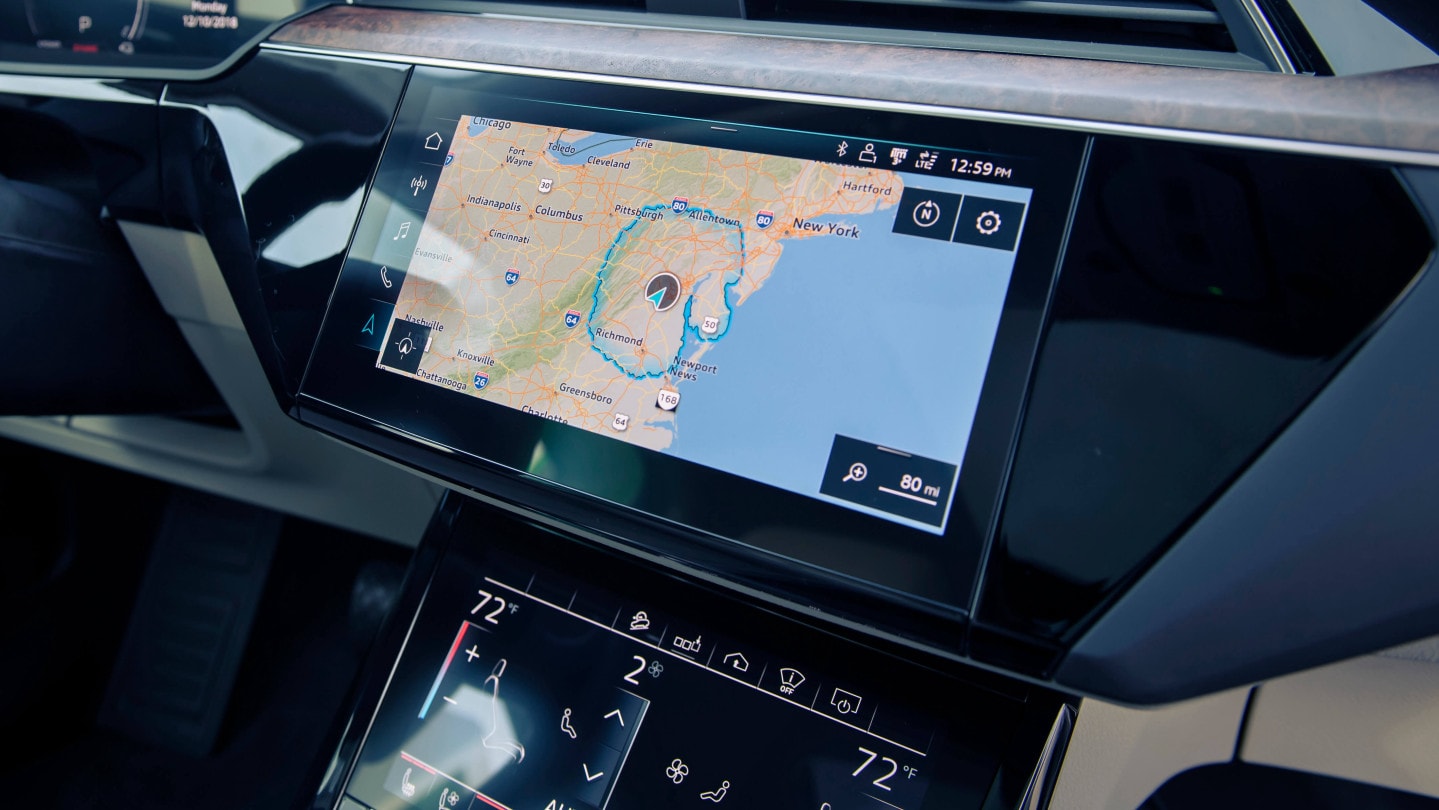 Audi of Smithtown is pleased to welcome in the new era of electric cars with the 2019 Audi e-tron®. The Audi e-tron is a new Audi SUV, and it's the only electric SUV that comes with everything promised by its Audi heritage: amazing performance, top-tier luxury, and signature Audi quattro® All-wheel drive. Let's take a closer look at some of the exciting elements of the Audi e-tron:
Exterior. With a sleek, head-turning style, the Audi e-tron signals both strength and sportiness. The aerodynamic design reduces the drag coefficient to 0.30, optimizing efficiency with each charge. Sharp details like LED taillights and a slick new Singleframe® grille make the Audi e-tron sure to stand out from the crowd.
Interior. The all-new Audi e-tron delivers Audi luxury like never before with a spacious, elegant cabin design loaded with technology to maximize the driving experience. And it's quiet, too, with brilliant sound-proofing and available dual-pane windows to complement the near-silent motor.
Performance. Would you expect a 0-60 mph time of 5.5 seconds from an electric SUV? The Audi e-tron delivers impressive power that translates to real functionality, with a 4,000-lb towing capacity when properly equipped. Five modes of air suspension optimize handling performance both on and off the road.
Innovation. The Audi e-tron is equipped with a 95 kWh battery for long-range capability, including a 54-mile range with just 10 minutes of charge time. The fast-charging 150 kW DC system will ultimately power through 204 miles, and the battery is covered by an 8-year, 100,000-mile warranty for ultimate peace of mind.
Audi of Smithtown near Long Island has 2019 Audi e-tron models in stock now, and 2020 model years are arriving soon. Visit our St. James, NY dealership, to experience this dynamic Audi SUV in-person with our expert sales associates and the opportunity to take a test drive.