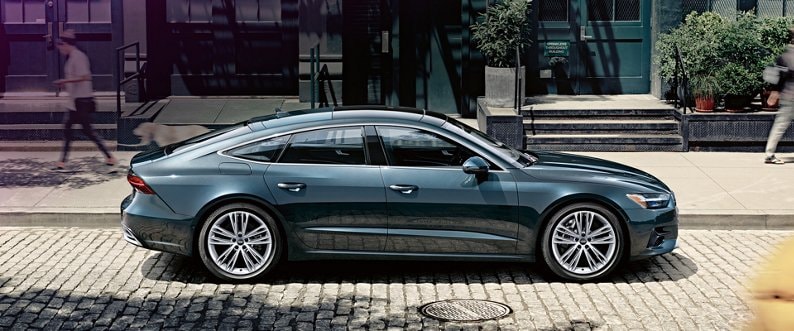 We know a new car is exciting, and often when we drive off the lot in a 2019 Audi car or SUV, we're not thinking about the next new vehicle. But here at your local Audi dealership, we also know that if we do look down the road a little ways, resale value becomes an important factor in selecting our next ride. That's why we were so excited to hear that the 2019 Audi A7 has received an award for Best Resale Value from the pre-owned car experts at Kelley Blue Book.
The 2019 Kelley Blue Book Best Resale Value Awards honored new models across a variety of categories. Kelley Blue Book staff uses cutting-edge research to analyze the vehicles based on everything from their specifications to sales information to competition within each category. They then project which are likely to have the highest resale value after five years.
After this year's careful evaluation, the 2019 Audi A7 came out on top of the entire Luxury Car category. There's a lot to love about the newest generation of the Audi A7. Kelley Blue Book praised everything from its exterior design to the quiet interior, calling it a "driver's car." Comments included that the 2019 Audi A7 feels "especially quick" and that the suspension damping makes the model "comfortable on the daily commute, but well composed when it's asked to be a sports sedan."
It's easy to see why the blend of comfort, excitement, and overall excellence will make the 2019 Audi A7 an easy car to re-sell. But we don't blame you if you're not quite ready to think about that yet, and prefer to focus on the excitement of a new 2019 Audi A7. Visit us at Audi of Smithtown for a test drive of the luxurious and fun Audi A7!