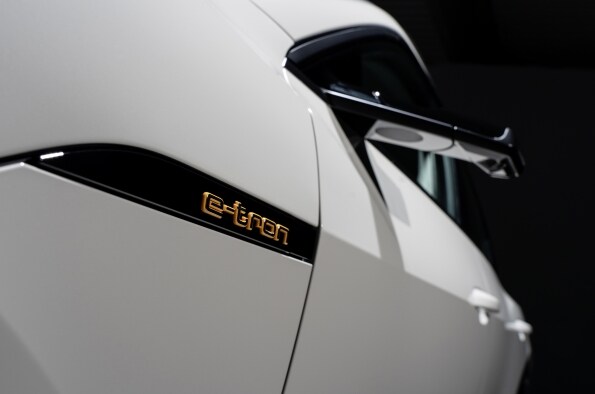 Last month, Audi unveiled an exciting new addition to their line-up: the first ever all-electric Audi production model. The 2019 Audi e-tron SUV is an impressive blend of energy efficiency, performance, and the comfort drivers expect from any new Audi car. And while it won't arrive in US dealerships until mid-2019, drivers who are excited about this latest Audi innovation can already configure and reserve their model.
The Audi e-tron SUV is a midsize SUV with seating for five people and ample luggage space for long trips, sports, and school gear. And the efficiency goes far beyond the electric power. The 2019 Audi e-tron uses everything from aerodynamics to specialized regulation of the cooling air inlet to ensure optimal efficient use of electric energy.
As far as performance goes, the SUV's 0-to-60 mph acceleration is an incredible 5.5 seconds, and drivers can reach up to 124 miles per hour. Considering this, it's clear that the electric engine doesn't require any sacrifice in terms of power.
The advanced technology goes beyond the engine and design to include a wide array of driver assist features. With help from adaptive cruise assist, which keeps drivers at a safe distance from other vehicles in traffic, a 360-degree camera, and other innovative features, drivers will find being on the road easier and more relaxing than ever.
Here at Audi of Smithtown, we're thrilled to be adding the 2019 Audi e-tron SUV to the amazing selection of models in our showroom soon. To learn more about this newest Audi SUV or to reserve yours, just search "Audi dealer near me" and give us a call or stop by! Our Audi dealers serving Long Island, NY are eager to help, and the 2019 Audi e-tron will be here before we know it!